LivelyCart 3 PRO
Quick Start Guide
---
Quick Start Guide
LivelyCart PRO Version 3 – Robust Laravel E-Commerce Platform | Shopping Cart
Features
Translation Supported you can easily convert this store into your own language. without changing code.

HTMl5 Markup

Responsive Layout.

Search Engine Friendly URLs.

Installation (Server Requirements) Verification Script.

Ready to use.

Well documented.

Robust Admin Section for Managing Store.

Percentage & Flat Country based Shipping Rules.

Search Product Functionality

Thumbnail & Multiple Images for Product.

Slider for product images on details page.

Submit Order by Email – Options for Bank Transfer, COD, Check etc.

Multi-level Unlimited Categories.
Products can belong to multiple categories.
Products can have Brand.

Unlimited Product Options with add-on price support.

Discount Coupons – Can have percentage, flat discount coupons.

Custom Pages Support.

Social Login Support.

Guest Login.

Quick Login

Ratings & Reviews

Allow customer to cancel order.

Allow Multi-currencies (Display purpose).

Add to Wishlist.

Product specific discount & cart discount with/without coupon.

Shipping Methods.
Specification Preset.
Product Specification.
Products comparison based on specification.
Product Filter.

Attractive details page with Product image Zoom.

Product Zoom.

Product FAQs.

Value Specific Images Options for product.

Dynamic User Role.

Dynamic Email Templates.

Mail Driver Configuration.

ReCaptcha.

Multiple payment gateways: PayPal / Stripe /Razorpay /lyzico /Paytm / Instamojo/Paystack payment gateways.

Footer & Slider Configuration.

Landing Page with variations.
Transliterate and Translation Support for Dynamic Words like Product Name, Category Name etc.

Products & Orders Reports using the charts.

Social Sharing with Facebook & WhatsApp.

Introducing new Banners & Tab Based content.

Auto Update Wizard.

Installation Wizard.
How to Order
Once user reach to website he can search for the product or can find it by Brands or Categories. Once he finds his desired product by clicking on
or details using he will be able to choose from available options if available if it needs add-on price the calculation of it will be displayed.

button with input quantity will be used for add this product in to cart.
Once the product added to shopping cart by using cart button at top right

or

You can see the shopping cart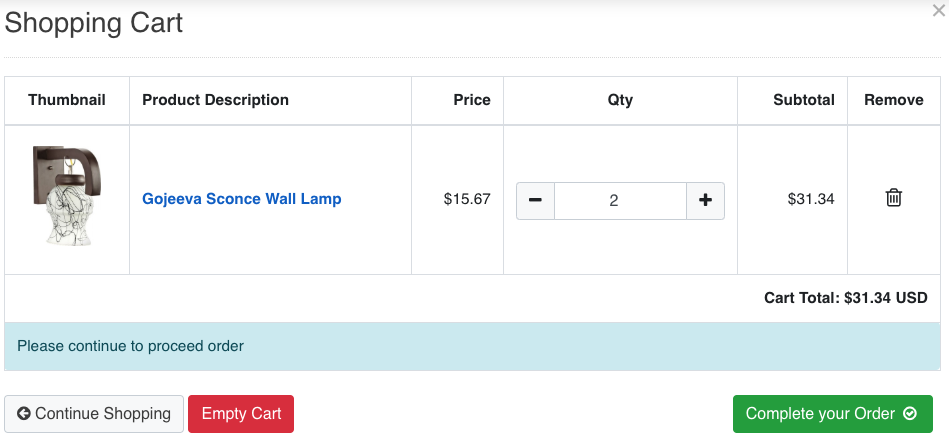 From this page you can edit the qty of the product or item can be removed.
Using Empty Cart button, you can delete all the items from the cart.
Clicking on Complete your Order button will take you to the Order Summery page one should be logged in to see this page.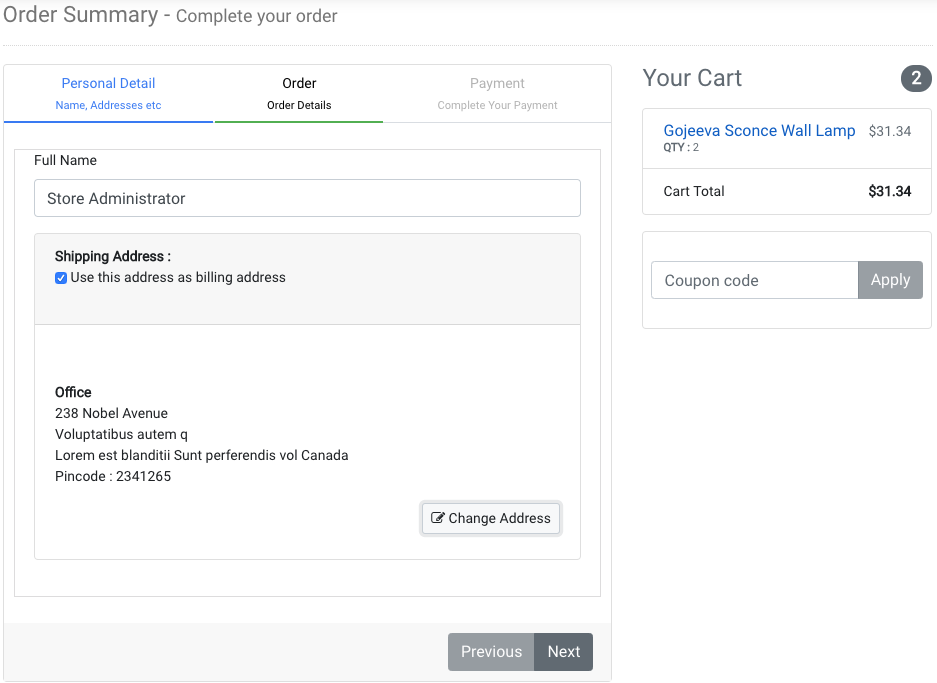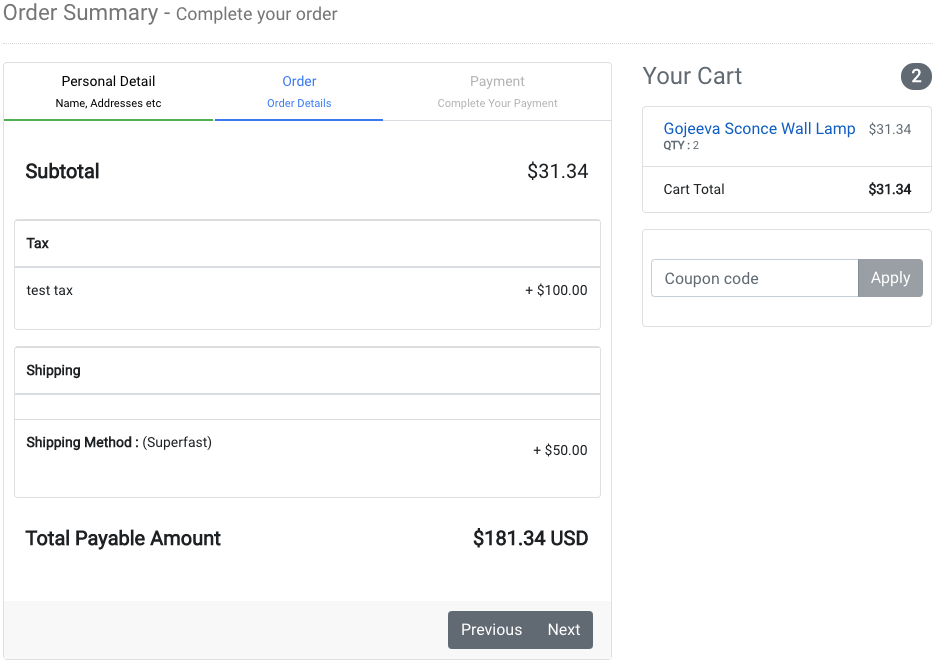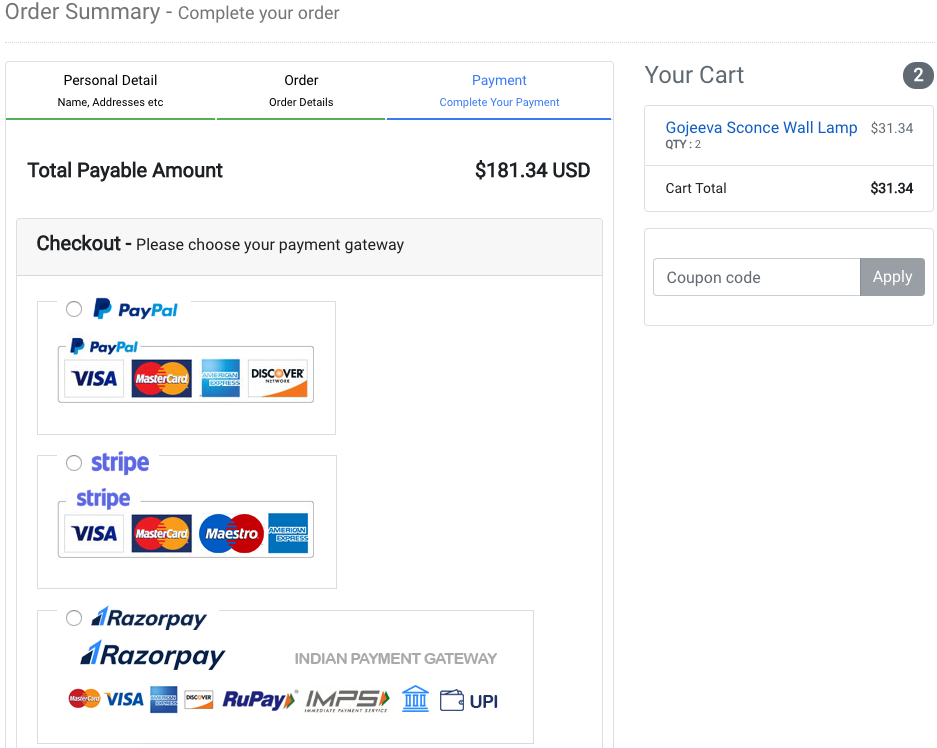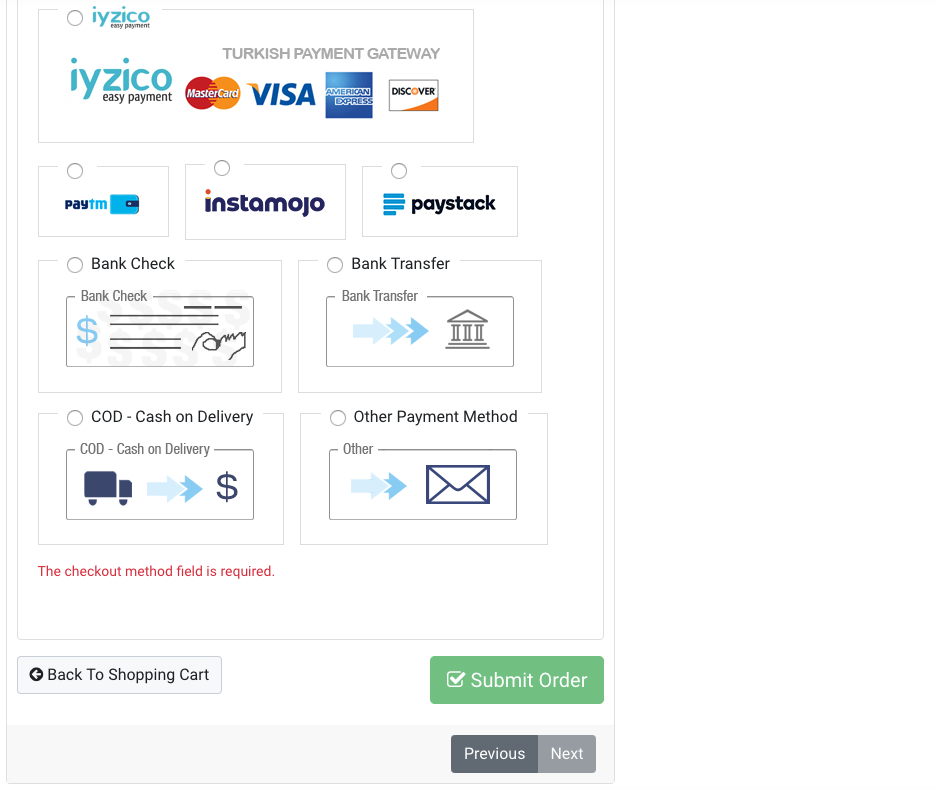 This is order summery/confirmation page:
One need to choose Shipping/billing Address.
Coupon code can be applied right into the Coupon section.
Also you need to select the your shipping method otherwise default
If there are any cart discounts are enable, then that discounts are applied on the cart total.
Finally needs to choose checkout method, all the checkout option except PayPal will shows the related info set by Admin & Send Order Email to Admin & also notify Customer, further communication may need to be done with each other.
If one selects PayPal as checkout method user will be redirecting to make the payment on success full payment user as well as Customer will be notified via Email, Further action may require by Store admin.